Sewing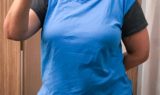 Fiona Sewing cotton jersey, liesl + co, maritime knit top 0
I finally squeezed in the time to make this shirt. As I learned with the Oliver + S Secret Agent Coat, the instructions were excellent and I didn't have to unpick any seams. One thing that wasn't clear, but only because my experience with sewing knits is minimal, was whether I should be sewing with a stretch stitch or straight stitch. Of course, if I had read the instructions all the way through before starting, I would have seen that stretch stitch is specified when required. Sigh. So I have stretch stitches where I didn't need them, but that's not a disaster on my first try.
I had intended to reverse these colours, but I underestimated my yardage. The short sleeves are fine, but I think the three-quarter sleeves will be more flattering. I also did my first full bust adjustment and while I think the dart is a little low, I think it worked out over all.
I'll definitely make more when I can squeeze some more time out!
Fiona Sewing costume, digital patterns, hellboy, oliver+s 1
We had a superhero costume party to go to and Hellboy was suggested as the costume to make. I knew that Oliver + S had a trenchcoat pattern, and thanks to Alabama Chanin and the tea party dress, I've been eyeing off their patterns for a few years now. So I jumped at the excuse to buy one of their digital patterns.
One of the things I love about the Internet is being able to download a pattern and start sewing right away!
Well, by sew right away, I mean, print out the pattern, cut out and tape the pattern, lay out the pattern on the fabric and then start sewing right away.  And of course, I only gave myself a day and a half to do this. The secret agent coat is complete just enough to look like a real coat. The remaining items are some extra buttons and the button holes. I still haven't gotten around to finishing it. Or getting better photos of it. But I do have some candid shots to share: